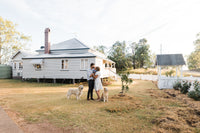 Samantha Gehrmann is a well recognised Australian female photographer, spinner, weaver and knitter. Her work across all mediums is natural, raw, emotive and showcases the beauty of the everyday.
Amongst these pages you'll find notes and imagery about the yarns she spins as well as the textiles she weaves and knits by hand. To peruse imagery available for licensing please view her portfolio on Stocky here.

In addition to her work you'll also find personal anecdotes on her, and her families, trials in gardening, home improvements, parenting, life with dogs and chicken raising. You'll be taken along on a visual exploration of little trips we make throughout Australia and the changes our home undergoes as we restore and renovate.
To book a studio visit, spinning lesson or just to say hi please get in touch.
Contact me